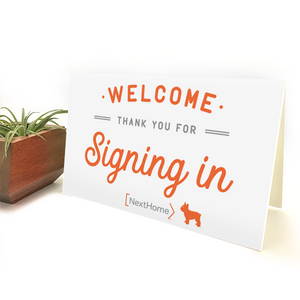 Sign In Sign - White
Our friends at All Things Real Estate helped us design their already awesome product with NextHomies in mind! How lucky are we!? 
A great way to ask your guests to please sign in! Place this sign next to your tablet or notebook to capture your listing's traffic. 
Printed on PVC 
Durable
8" x 5"
Nice look!
Helps our brand stand out compared to others. Professional, stylish look!
Love the sign
Love the sign, love that I don't have to use a paper sign. Looks really professional!
Love Luke
I have always used signs letting open houses guests know that they needed to sign in. Unfortunately I always printed them out. I love that this looks professional, and that Luke is right there to great my guests.
Amazing idea
Such an amazing idea for open houses. Simplistic yet clean design!