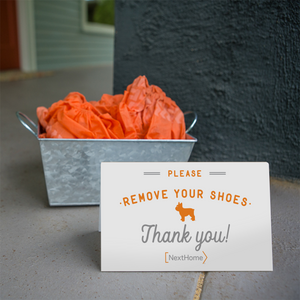 Shoe Sign - White + Luke "Remove Shoes"
Our friends at All Things Real Estate helped us design their already awesome product with NextHomies in mind! How lucky are we!? 
Let us do the talking for you! Thanks to this inviting sign, now you can avoid gently reminding visitors to remove their shoes before entering your listing.
Printed on PVC 
Durable
8" x 5"
*Sign only- booties sold separately*
Love this sign
Been looking for this for awhile. Really wanted the one that says "this could be your home..." but they were out of stock. Nice quality and will be great at my next OH especially as winter approaches!
Absolutely Perfect
I love how durable this sign is and the fact that it matches all my other signs. Thanks so much.
Remove Shoes Sign
Love it. Durable material. Very satisfied with this item.