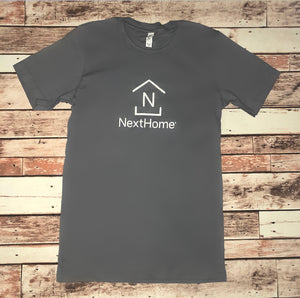 NextHome Grey Premium Tee
Let me introduce our softest shirt yet! This grey and white branded tee is sure to be your new go to teeshirt! Wear your NextHome colors with your favorite black jean or blazer without feeling like Halloween! ;)
Product Description
Curious about what size you should order? Follow me ...  click here
Perfect NextHome shirt
I love this shirt! You can dress it up or down, super comfortable, and the perfect length.
This is one I've had to re-order twice because everyone wants one!
Good quality. Nice and soft
Poor material
I washed my shirt one time and after drying it the shirt had little holes in it.
So soft
I don't usually wear crew necks, but the softness of this shirt makes it worth wearing!