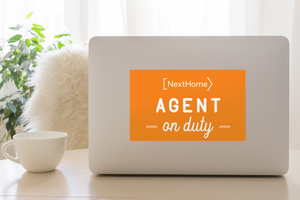 Laptop Decal- Agent Orange
Our friends at All Things Real Estate helped us design their already awesome product with NextHomies in mind! How lucky are we!? 
How often are you working from a coffee shop, or cafe? This decal is the perfect way to market yourself on the go! Perfect for your laptop, tablet, or notebook!
These vinyl stickers are easy on/easy off and won't leave behind a sticky residue like traditional paper stickers do.
I love the decal! I did have some issues though with heat. I left my laptop in my warm car and the decal has bubbled from the heat.