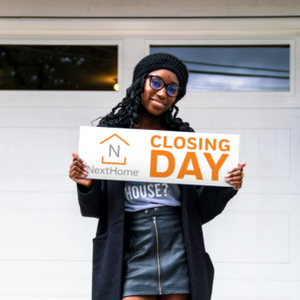 "Closing Day!" Testimonial Prop
How cute is this testimonial prop!?
Capture a special moment with your clients using this prop in front of their new home! Share on social media to celebrate them and yourself! 
Our friends at All Things Real Estate helped us design their already awesome product with NextHomies in mind! Is it ever too early to get them started?
Made from 100% recyclable polypropylene

9"x24"

Single Sided
Exactly what I was looking for.
I was looking for a great testimonial prop for when I go to closings. This is perfect and of great quality. I highly recommend it.
So glad you love it! Tag me in your Client photos... I love them!! :)